Dress:self made Blazer:F21(thrifted) Shoes:Payless(thrifted) Necklace:a mystery
The sun came out today!! I can't begin to explain the joy that brings me...I wore this dress to church today, one of my Simlicity 2444 dresses. I should have worn a belt to cinch in the waist a bit because it is a tad to big now but I was comfortable..
See this dress styled just a little bit differently with a belt,
here
.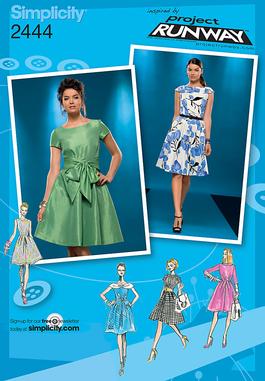 The envelope doesn't really do this pattern justice..
My Review:
Pattern: Simplicity 2444
Fabric used: A rayon twill.
Instructions: They are easy to follow. This pattern has lots of darts and pleats so if you don't like that then this may not be the pattern for you. It calls for facings which I have used but this time I fully lined the bodice using a pull through method before attatching the skirt. This is my favorite way of lining a sleeveless bodice.
If I could change anything: I wouldn't change a thing. I have made it with sleeves as well and still loved it.
Repeat worthy? Yes, without a doubt. I have taken a "break" from using this pattern for a bit. I have made it five times already with a sixth now in production. I have also picked up an extra copy for fear mine will be too worn out to use. I like it that much!!! I am expecting to go through withdrawl.