I am getting so close to the end of my
Stash Busting Challenge
! This fabric has been a veteran resident of my stash and I am pleased to say that it now resides on my closet. I always knew that this fabric would become either a dress or a maxi skirt. Unable to really decide... I did both. Another maxi dress. I know that I need to focus on making more separates but it is just so easy to throw on a dress in the morning or the evening as was the case here when I wore it out on a date with Handsome.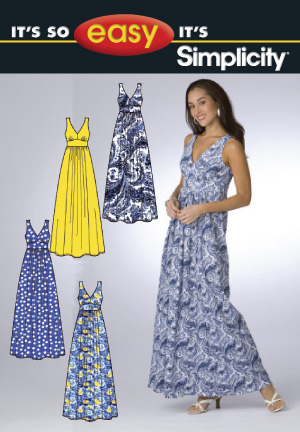 Simplicity 2638
My Review:
Pattern: Simplicity 2638
Fabric used: A polyester that is much like a linen but doesn't wrinkle at all! I lined it with a beautiful ivory cotton silk blend that feels so lovely against the skin.
Instructions:The instructions were straight forward and easy.
Changes I made: I lined the skirt of the dress as well as the bodice and added two inches to the length. This dress didn't call for pockets and if you can believe it... I didn't add any. The skirt is made of three pieces so the seams are not placed exactly at the sides so I didn't add pockets for fear that they would make this fabric droop in the front. sad face.
Repeat worthy? Yes!